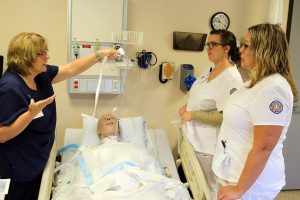 How long is the program?
Graham Hospital School of Nursing is a 3 year diploma program. We have only fall and spring semesters.
Is the nursing program accredited?
Graham Hospital School of Nursing is approved by the Illinois State Department of Financial and Professional Regulation and has been accredited by the Accreditation Commission for Education in Nursing (ACEN), an accreditation reserved for quality educational programs in nursing.
When do you start a new class?
A new class is started each August. We do not have spring semester admissions.
Does the school have a waiting list?
Students who are not offered admission in March will be placed on a waiting list to be called if an opening becomes available for the fall. Applicants that are placed on the waiting list are not guaranteed admission the following academic year. They must reapply.
Do I need to be a nursing assistant to apply to the program?
No. Some students have previous healthcare experience, but none is required for admission to our nursing program.
What if I am a CNA?
Applicants who meet advance placement criteria of CNA's can elect not to attend some class sessions of NUR 110 when CNA material is presented or audit sessions of NUR 110.
What if I am an LPN?
Applicants who meet advance placement criteria shall receive 18 nursing credits toward the completion of our diploma program and will enter the program at the 2nd year, taking NUR 210 during the fall semester. More detailed LPN advanced placement requirements may be found in the admission section or the school catalog section of the this website.
What are the prerequisites for your program?
The minimum requirements for admission are listed in the admissions section of our web site. We require a "C" or better in all of your basic high school courses such as English, Math, Biology (within the last 5 years), Chemistry, and Social Sciences. If you are returning to school after several years off, you may need to take a Biology class prior to admission. It is also a good idea to take a math placement test at a local junior college to see if you need to brush up on your math skills. Statistics is a required course in our curriculum and some students need to take a math course before they will be allowed into Statistics.
What if I already have some college credit or a degree?
You may have several of our required support courses completed. Transfer credits are accepted per the Illinois Articulation Agreement. All courses must be completed with a "C" or better. Support courses already completed will not lessen the length of the nursing program as the nursing courses required are offered in a sequence that will take 3 years.
What do I need to do in order to apply for admission?
Students interested in admission to Graham Hospital School of Nursing must arrange to have a pre-admission interview and submit all of the following:
A completed application form and $40 non-refundable application fee.
Three letters of recommendation using the Personal Reference Form.
Official transcripts from all high schools, G.E.D scores, and colleges you have attended.
A completed Essential Functions for Students of Nursing Form.
A favorable criminal background check and a drug screening done by Graham Hospital is also required before final admission to Graham Hospital School of Nursing. Once all of the above information has been received by the Coordinator of Admissions, Recruitment, and Financial Aid, you will be placed on the list to be reviewed for admission. If your file is not complete, you will not be included in the applicant pool. Applications are reviewed in December and March. The deadline for submission of all required application materials is November 15th for the December review and February 15th for the March review. Applicants will be notified of their admission status in writing after the review date. All applicants need to be aware that meeting standards at the minimum level does not insure admission to the school.
Where do I have to go for my clinical training?
Most of your clinical training will be held at Graham Hospital. We also utilize clinical sites in the surrounding Fulton County area, Macomb, and Peoria.
What is the cost of attending Graham Hospital School of Nursing?
Approximate direct costs (tuition, fees) are $20,214 plus books for the 3 year program, or $27,474 for those living in the residence hall. Tuition includes the required support courses students take at Spoon River College while enrolled in Graham Hospital School of Nursing. (SRC tuition is calculated at the basic credit hour rate.  Cost is more for online courses.) Once admitted to the program, students are guaranteed the same tuition rate for three continuous academic years.  The current year's tuition is listed in the school catalog and on the website.
How do I file for financial aid?
Filing for your financial aid is easy! Apply for student aid at www.fafsa.ed.gov. Have your most current tax return ready. You will need information from it to file for financial aid. Applying for federal student aid is FREE. Beware of scams and services that will search for financial aid money for you for a fee.