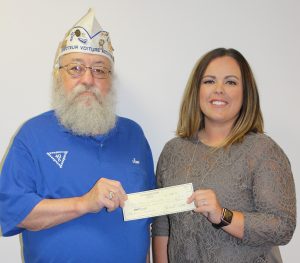 Academic Year
The School of Nursing operates on a semester system. Each semester is 16 weeks. The academic year begins mid-August and ends mid-May.
Purpose
The primary goal of the financial aid office is to help students achieve their educational goals through financial support and resources. It is the goal of the Office of Admissions, Recruitment, and Financial Aid to assist students to keep financial obligations at a minimum during their educational experience. Through federal and state resources, work study, and loans, the school provides award packages which contain both gift and self help forms of assistance. Priority consideration for funding is given to the students who meet established deadlines for submission of aid forms. The financial aid package process ensures effective use of funds available and provides fair and equitable treatment of all applicants.
100% of the students enrolled at Graham Hospital School of Nursing during the 2018-19 academic year received some form of financial assistance either through federal and state grants, loans, or scholarships.
During the 2018-19 academic year a total of $568,893 was awarded in federal and state financial aid, student loans, and miscellaneous institutional/outside scholarships.
The coordinator of Admissions, Recruitment, and Financial Aid administers the financial aid program, and assists students with information and counseling. All students are encouraged to file for financial aid.
Eligibility Requirements
To be eligible for financial assistance, a student must meet the following criteria:
have financial need (except for Federal Direct Unsubsidized Loans)
have a high school diploma or its recognized equivalent
attend a participating college as a regular student and be working toward a degree or certificate
be a U.S. citizen or eligible noncitizen
have a valid Social Security Number
be making satisfactory academic progress
certify that you will use federal student aid only for educational purposes
certify that you are not in default on a Federal student loan and you do not owe money on a Federal student grant 
be registered with Selective Service (if required)
In addition:
Federal Direct Loans and private loans must be repaid with interest.
Students going to college less than half-time may be eligible for Federal Pell Grants and some other Federal Student Aid programs.
Students who have received a bachelor's degree are not eligible for Federal Pell Grants or FSEOG, but may be eligible for other Federal Student Aid programs.
Students who are attending two schools in the same enrollment period can only receive financial aid at one of the schools.
Conviction of drug distribution or possession may make a student ineligible.
Financial Aid Awards
The following sources of aid are available:
FEDERAL
Federal Pell Grants
Federal Supplemental Education Opportunity Grant (FSEOG)
Federal Direct Loans
Federal Work Study Programs (FWS)
VA Benefits
STATE
Illinois Student Assistance Commission Monetary Award (ISAC)
PRIVATE
Loans and scholarships from private sources, such as hospitals and health care agencies, service organizations, foundations, and civic organizations.
Gift aid awarded in recognition of outstanding achievement.
Programs are outlined in more detail in the Financial Aid Handbook.
Find tips for writing a winning scholarship essay at: https://www.youtube.com/watch?v=2L4LSgyY_Gs
Financial Aid Application Procedure
Eligibility to receive need-based aid is based on a difference between what the parent or spouse and student are expected to contribute toward an education at Graham Hospital School of Nursing and the cost of education. The family contribution is determined by a federally required formula that weighs factors such as income, assets, debts, family size, number in college, and recognized family expenses.
Awards based on need as determined by the Free Application for Federal Student Aid (FAFSA). Students who request financial aid to attend Graham Hospital School of Nursing must list Graham Hospital School of Nursing's federal code number 008938 on their FAFSA.
Listed below are the steps involved in the application procedure:
Step 1 Complete the Free Application for Federal Student Aid (FAFSA). You can apply for student aid electronically at www.fafsa.gov. Be sure to follow the accompanying instructions and answer all required questions carefully.
Step 2 Complete the Graham Hospital School of Nursing Financial Aid Application and return it to the Coordinator of Admissions, Recruitment, and Financial Aid.
Step 3 If you filed electronically and provided a valid e-mail address, you will get an email within three to five days. The e-mail contains a secure link so you can access your Student Aid Report online. If you apply by mail, it will take about two to three weeks for your FAFSA to be processed and for you to receive a SAR in the mail. Graham Hospital School of Nursing will receive the report electronically. Information received from these documents is used to determine need eligibility for funds. All information is held in confidence and will not be released without consent of the student. Students will be notified of any documentation needed by the Office of Admissions, Recruitment, and Financial Aid. Documentation may include but not limited to, verification worksheets, and other income information.
Step 4 After all information is submitted to the Office of Admissions, Recruitment, and Financial Aid, you will receive a financial aid award letter listing the amount of assistance offered to you. You must sign and return the school copy of the award letter to the Office of Admissions, Recruitment, and Financial Aid, indicating your acceptance or refusal.
Cost
Information 2021-22 Academic Year
| Tuition Nursing Courses | $195 per credit hour |
| --- | --- |
| Spoon River College Courses: |   |
| General Education Courses | $196 per credit hour |
| Science Courses | $190 per credit hour |
| Online Courses | $200 per credit hour |
| Fees* |   |
| --- | --- |
| Activity Fee | $200 per semester |
| Technology/Testing Fee | $335 per semester |
| Printing Fee | $  120 per semester |
Estimated Nursing Books
 
Freshman Level
$754 per semester
Junior Level

$57 fall semester

$510 spring semester

Senior Level

$292 spring semester
Nursing courses are 7 to 10 credits per semester. SRC courses are 3 to 10 credits per semester, depending on the curriculum plan level and any prior courses completed.  SRC tuition will change according to SRC rates each year.
Upon receipt of final acceptance, all entering students are required to pay a non-refundable $75.00 enrollment deposit to ensure a place in the entering class.
Tuition at Graham Hospital School of Nursing is comparable to other hospital- based diploma programs. 
*Simulation Lab fees are charged for NUR 110 ($57), NUR 111 ($25), NUR 210 ($49) and NUR 310 ($28). Seniors also incur a $200 Graduation fee (Spring only).
Billings
Approximately 4 weeks after the start of each semester, two copies of the billing form are provided for each student. Upon receipt of the two copies of the billing form the student is to:
Sign and return one form to the Office of Admissions, Recruitment, and Financial Aid.
Retain one form for their personal record.
All student aid, including loans, is applied directly to the student account. If a balance remains, students may utilize a payment plan to pay the balance. The payment plan will allow students to make three equal monthly installments due no later than the 1st of the month. Fall semester payments are due October, November, and December. Spring semester payments are due March, April, and May. Payments not received by the due date will be assessed a $25 fee. The payments should be paid to the cashier in the Business Office on the main floor of the hospital. If the billing reflects a credit due, students will receive their credit check from the Financial Aid Office.
Students will not be furnished an official report of grades or a transcript of credit, receive a diploma, or be permitted to register for another semester until all financial obligations to the School are paid.
Students who withdraw from or fail the program with tuition amounts outstanding will immediately owe the balance of tuition plus interest. The interest will accrue on the unpaid portion of the tuition at the rate of 10% from the date of withdrawal.
Uniforms
Students are responsible for the purchase of a white uniform, white nursing shoes, white lab coat, official white school polo shirt, navy scrub pants, and student patches. Students may purchase their uniform at any uniform or medical supply store. Please see Student Handbook for dress code.
Books and Professional Supplies
Graham Hospital School of Nursing books and supplies may be purchased through the Graham Hospital School of Nursing library. Fees for books and supplies can be added to the student's billing with their permission. In the case of withdrawal from Graham Hospital School of Nursing, books and supplies are considered an institutional charge and will be refunded according to the refund policy listed in the School Catalog and Financial Aid Handbook.
Annual Notice to Enrolled Students